Stanislaus Reads and Writes

In 2014, local authors collaborated to write a community novel, Ashes in a Teardrop. The novel begins when a young couple stumbles across an abandoned teardrop trailer during a weekend bike ride along the Tuolumne River. What follows is a suspenseful mystery set against the familiar landscape of Stanislaus County.
Author Biographies
Podcast on iTunes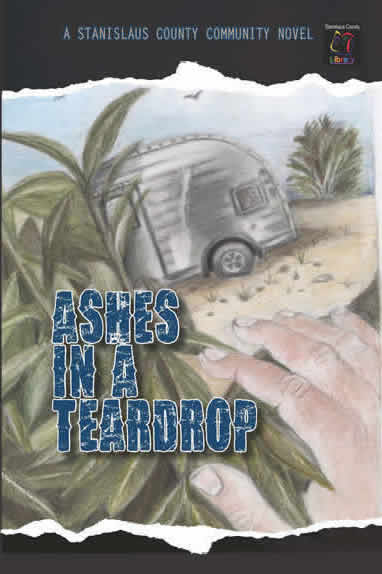 Jasbinder Kaur Atwal, the winner of the Stanislaus Reads and Writes Cover Art Contest, was born and raised in England, in the southern part of London, where she discovered her passion for art. As a child, drawing became a favorite hobby, and soon she was taking every art class in school, and entering many art competitions. At the age of 19, Jasbinder moved to the United States. She is self-employed and attends Art Instruction Schools. After earning her art degree, she hopes to pursue her dream of becoming a great artist. She was motivated to enter the cover art contest in the hope that her love of drawing would translate into a picture that strongly represented the interesting plot of Ashes in a Teardrop. Since her artwork was selected as the cover art for the Community Novel, Jasbinder has been further inspired to become a professional artist. Jasbinder resides in Waterford with her husband and two sons.
---

Chapter 1 - Micheal Maxwell ---- Audio 1
Chapter 2 - Kent Johnson ------- Audio 2
Chapter 3 - Louise Kantro ------- Audio 3
Chapter 4 - R. Garrett Wilson --- Audio 4
Chapter 5 - Jennie Bass --------- Audio 5
Chapter 6 - Alexandra Deabler - Audio 6
Chapter 7 - Julia Washington --- Audio 7
Chapter 8 - Dana Ardis ----------- Audio 8
Chapter 9 - Tally Scully ---------- Audio 9
Chapter 10 - Ellie Cummins ----- Audio 10
Chapter 11 - Doug Souza ------- Audio 11
Chapter 12 - Loretta Ichord----- Audio 12
Chapter 13 - Girish Parikh ------ Audio 13
Chapter 14 - Bridget Foster ---- Audio 14
Chapter 15 - Clyde Collard ----- Audio 15
---
Author Biographies