Library App Information
Access your local Stanislaus County Library - Anytime, anywhere via the mobile app
The Stanislaus County Library has a free mobile app. Access your Library account, find the nearest branch, search the catalog and browse for books, CDs, DVDs, eBooks, and eAudiobooks. Check the calendar for upcoming library events. Access our online resources, and more.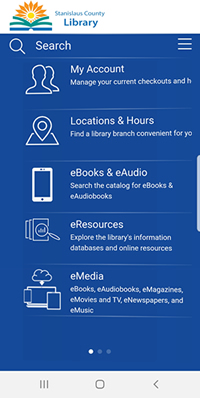 The Stanislaus County Library app enables you to locate and search your library catalog wherever you are. You can locate books, movies, and more with easy search features designed for mobile devices.
Download the FREE Stanislaus County Library App from the app store for your device.
What does it do?
Access your library's services 24/7 from your phone or tablet.
Search your library's catalog.
Check Your Account - Place holds, view checkouts, and renew books, CDs and DVDs.
Read, listen, or watch eBooks, downloadable audiobooks, eMovies, and more.
Access to your digital library card for easy checkout.
Search the calendar, locate the nearest library branch, stay connected, and more.
How do I get the app?
Go to your device's app store to download the app, or scan this QR code with your device.