California Library Literacy Services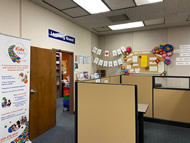 Since 2001, Stanislaus County Public Library has successfully partnered with LearningQuest -- a local non-profit literacy organization -- to provide the literacy services paid for by California Library Literacy Services. These services include adult literacy tutoring, preparation to pass the High School Equivalency Diploma test (GED), classes to help English learners improve reading and writing, English as a Second language individualized tutoring and conversation groups, and family literacy activities to provide learning and literacy for the whole family.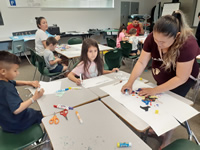 The adult literacy and ESL individualized tutoring take place at the Modesto Library and other branch libraries. Schools and churches house many of the small group classes and groups meeting in the community so that services are provided in the neighborhoods for families to be able to walk to their programs. Childcare is provided as well. The HSE preparation is provided online and in person in a hybrid format at the LearningQuest Learning Center at 1032 11th Street. Students also receive individualized tutoring for their specific learning needs. The county jail is another location where individualized tutoring in literacy and ESL as well as small group classes to prepare for the HSE exam take place. Through this one-of-a-kind partnership, the Stanislaus County Library assists close to 1000 adults per year. Contact LearningQuest at (209) 558-4505.